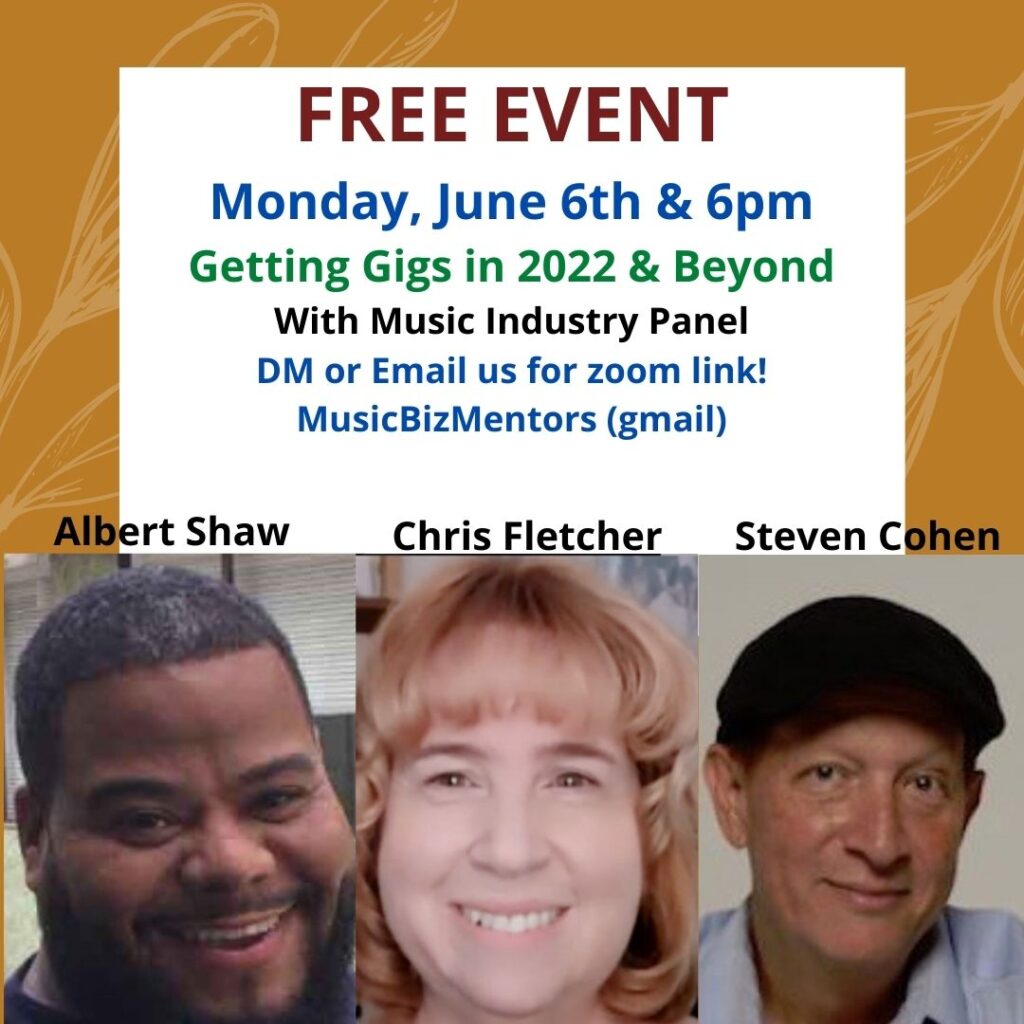 Monday, June 6th at 6 pm (PST)
FREE BOOKING PANEL ON ZOOM 
Al Shaw (Machine Creative Management), Steven Barry Cohen(Lake Transfer Artist & Tour Management) and Chris Fletcher(Coast to Coast & MusicBizMentors) come together to share tips with musicians seeking live gigs throughout 2022 & beyond. This live performance world has changed, but by releasing current music and getting current, you could start planning tours for 2023! All levels welcome! 
Contact MusicBizMentors@gmail.com to get the private Zoom link!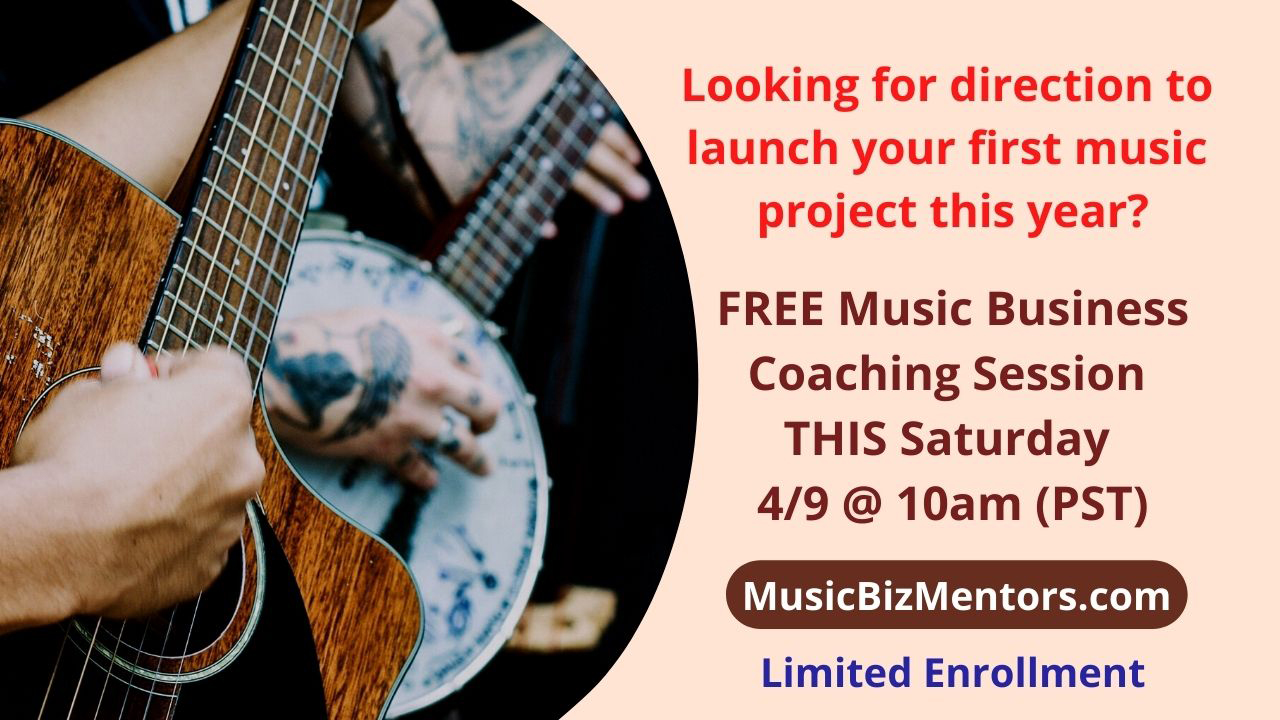 SATURDAY April 9th, 10am (PST)
One FREE Coaching class to help musicians to release their music to the world THIS YEAR!  LIMITED ENROLLMENT!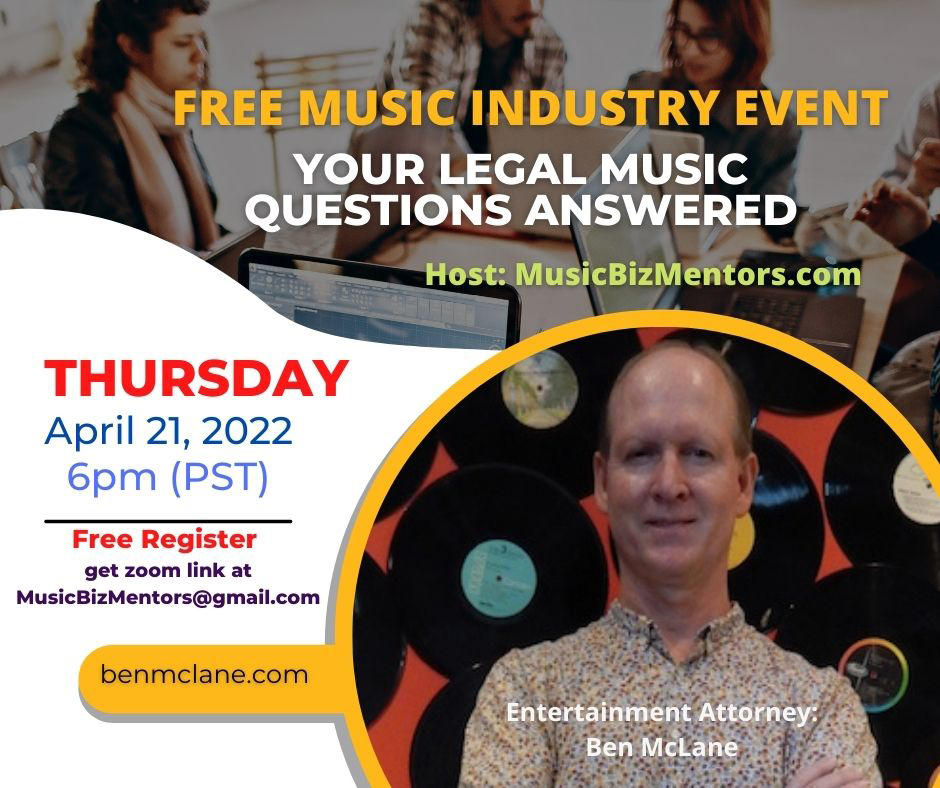 THURSDAY April 21st, 6pm (PST)
Music Industry Events Return! Ask any music business legal question to the guest, Entertainment Attorney/Author/Educator, BEN MCLANE!
FREE  ZOOM EVENT! Email today to save your spot!
JUMPSTART YOUR MUSIC CAREER Webinar
Friday, Jan 28th@ 12 noon (PST) OR Monday, Jan 31st @6pm (PST)
Just email us at MusicBizMentors@gmail.com for the FREE zoom link.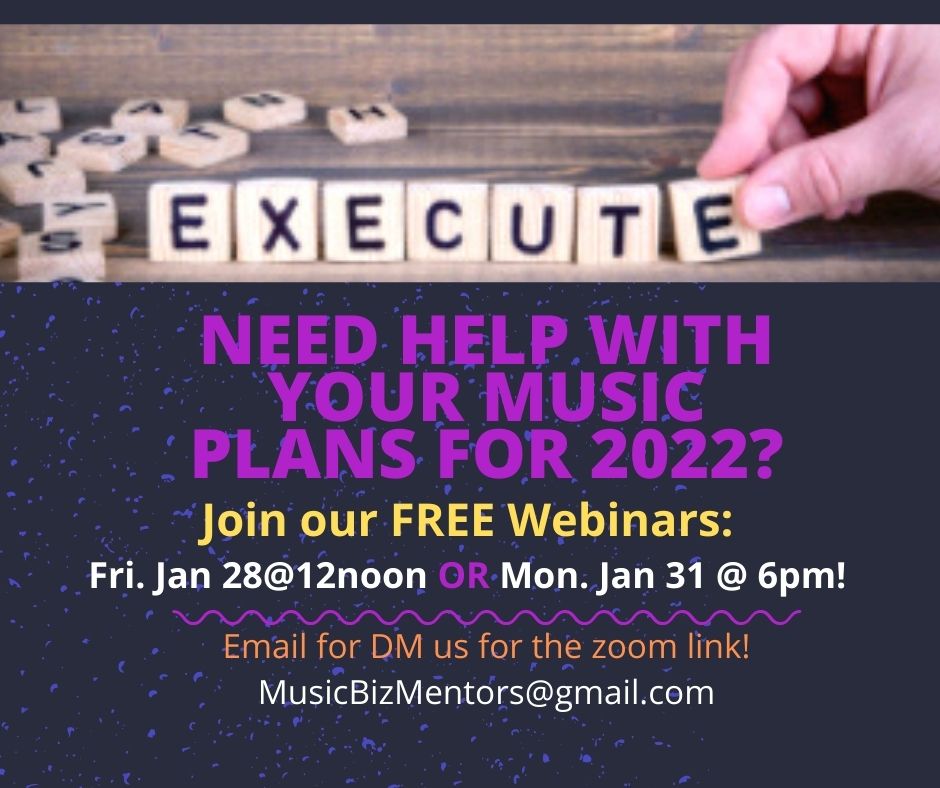 FREE WEBINAR: Making Money, Making Money
Friday, December 3rd at 12noon, and
Monday, December 6th at 6pm.
Email us for a free confirmation link to: MusicBizMentors@gmail.com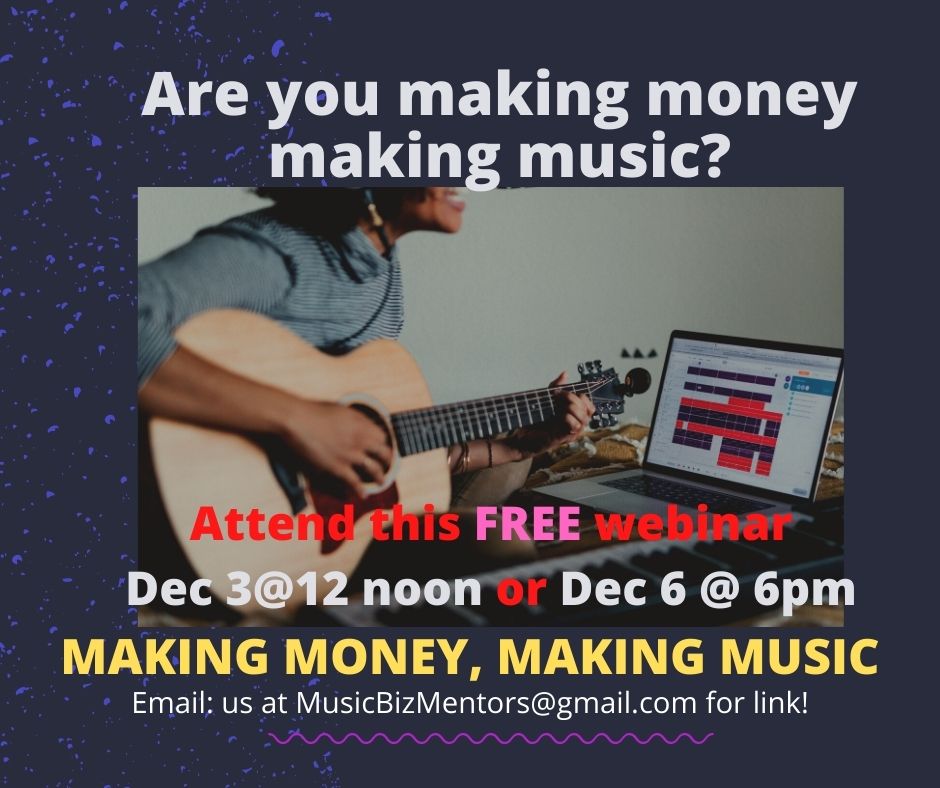 MUSIC SUPERVISORS SPEAK TO DIY MUSICIANS!
Zoom
Sept 10, 2021
12:00pm (PDT)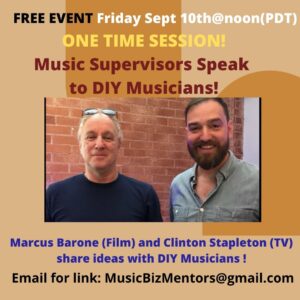 MBM DIY MUSICIAN WORKSHOPS/PANELS
A few times a year we host music industry panels, workshops, and special Artist Development learning series. These usually take place on a Thursday evening but our Zoom sessions vary on the days and times based on the panelist availability.
MEET THE MENTORS PANELS
Every year we do a MEET THE MENTORS panel where we have a 1-hour panel and then the mentors go into smaller groups to answer specific artist questions.
DISCOUNTS
During the workshops, if you have a current college ID, you may attend for free, but you MUST RSVP. Full band discounts are available for full band attendance. Please call us for a special price. There are no discounts for the MEET THE MENTORS panels.
WHERE DOES YOUR ENTRY MONEY GO?
We guarantee a very small stipend to our workshop leaders…pennies on the dollar-based on their regular consulting fee. The rest of the monies are collected for admission or donation, half goes to the physical venue to help them keep their doors open and the rest goes directly back into Meet the Mentors administration & advertising efforts. CASH is accepted at the door but an RSVP is requested.
DO YOU WANT TO JOIN OUR PR/ADVISORY BOARD?
Our current PR/ADVISORY board members are volunteering their time and skills to growing the Music Biz Mentor & thecoolschool events! If you would like to be part of our efforts or have a suggestion as to an industry or songwriting group we should invite to our program, we welcome your input!