MusicBizMentors mission is to provide "affordable" Music Business events & mentor meetings that will serve as a helpful guide to successfully reaching your music goals. We know that music can change attitudes, grow unity and truly change the world!
MBM Live Event:
Musicians Share Their Career Stories
MBM 2020 Zoom Event:
Pushing Your Career Thru COVID-19
Music Supervisors Speak to DIY Musicians!
Zoom
Sept 10, 2021
12:00pm (PDT)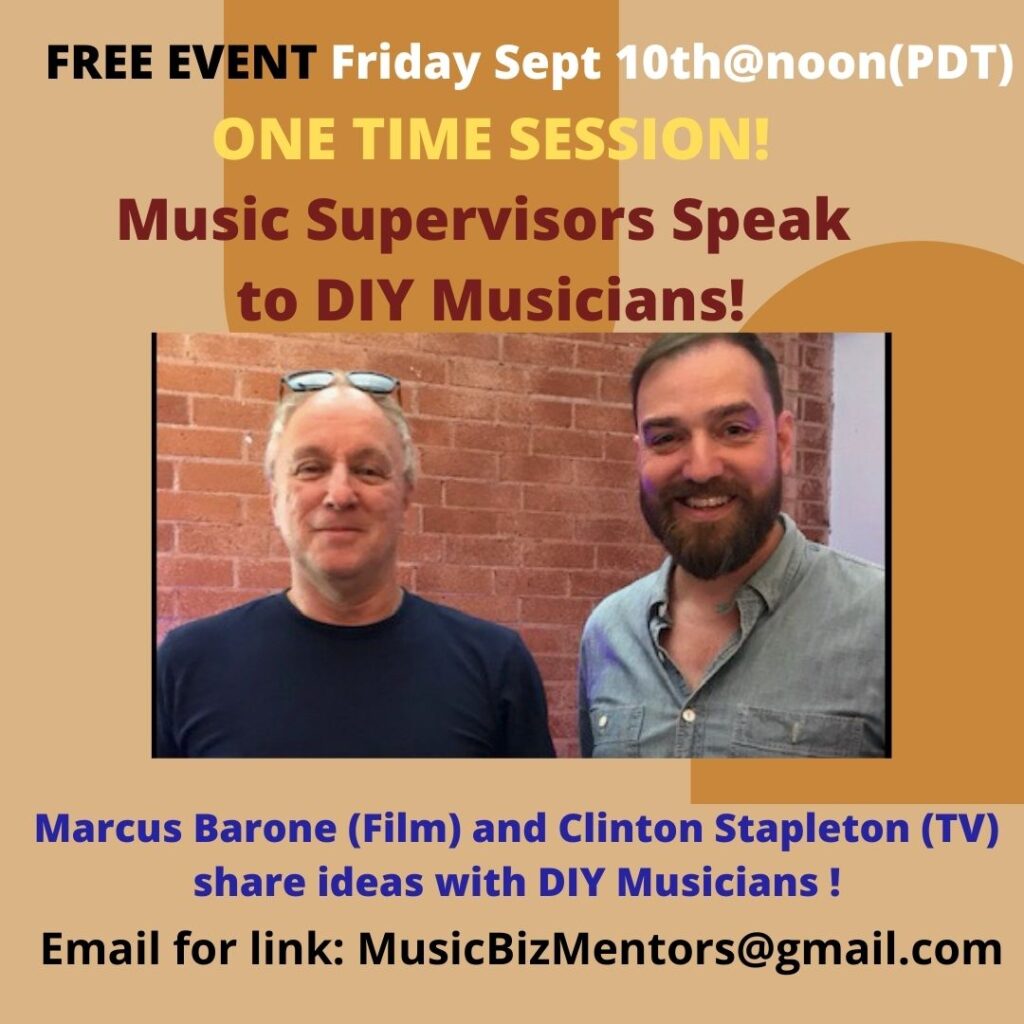 ONE LIVE SESSION ONLY! FREE ZOOM EVENT!
MUSIC SUPERVISORS SPEAK!
Music Supervisors Marcus Barone from Film Music Group /First International Pictures AND Clinton Stapleton from 495 Productions have agreed to help MBM with a special FREE zoom session on:
Friday, September 10th (12noon PDT).
EMAIL MusicBizMentors@gmail.com to receive the Zoom link!
NEW!

Industry Mentors Program
In 2021, you can expect more online interviews with Music Business professionals and mini business courses that will fuel your music business and carry your music career to succeed like never before. PLUS Mentors can become one-on-one coaches if you need special attention.
NEW INTERVIEW SUBJECTS FOR 2021:
Networking & Image Building
Secured Paid Gigs
Launching Your DIY Music Projects
Social Media plans & campaigns
Placing Songs in TV, Films, Video Games & more
Musician Speaks series: Songwriters, Vocalists, Session Players and Placement Creators tell their stories and give advice!
PLUS Short Mini Education online programs!
September 18, 2021
SONG PLACEMENTS! Remember, you ARE licensing your songs NOT selling them…Music Supervisors use non-exclusive agreements. SOME WISE WORDS FROM: CLINTON STAPLETON FROM 495 Productions. (TV Production) TV needs FAST acceptance; sometimes the sync contract needs to be signed within 1 day! TV is continuous so these music supervisors are always accepting music. TV need HI […]
Signup to our mailing list!